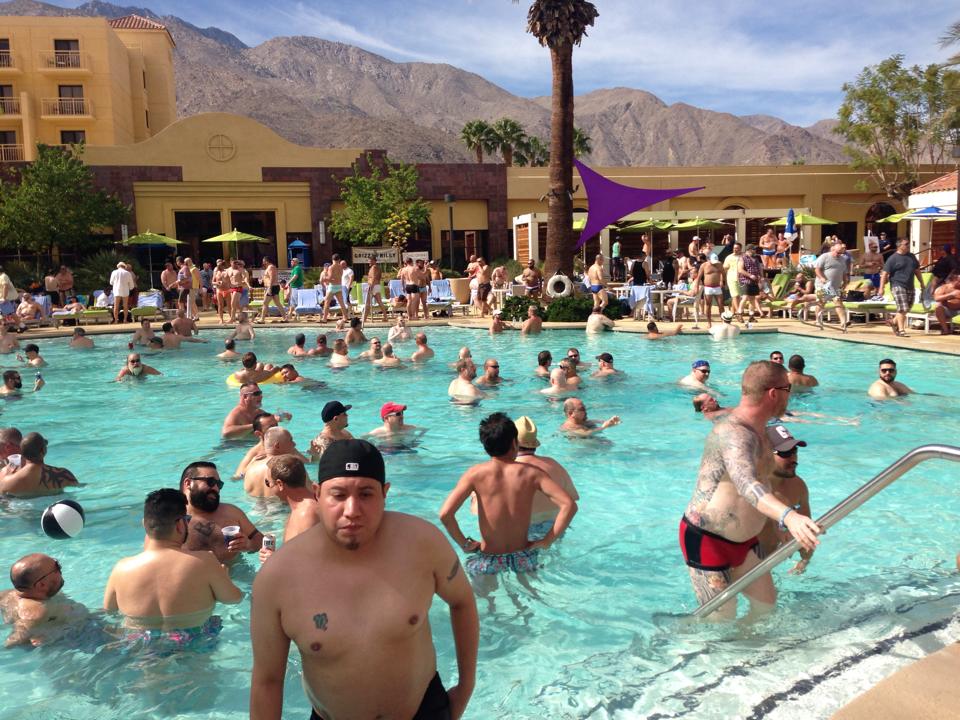 Where the Bears Are
Since the new millennium, the bear community has become one of the bigger (no pun intended) niches overall in the gay world, as we have become quite noticeable compared to the 80's and 90's.  When the community started, a bunch of furrier guys with some weight on them banded together in an effort to find their own way in a world where muscular guys and twinks were grabbing most of the attention in the media and whatnot.  Over the past fifteen years or so, it's become our turn, and it's caught on not only across the country at major gay bars but also in the mainstream media as well.
What's even better is that the word "bear" means so much more than what it was originally intended.  The community itself has opened itself up with hairy arms to a diverse crowd who identify as an otter, cub, chub, daddy bear, polar bear, chaser, and so much more who unite with one thing in common: fur and hair is hot.  And that translates to why some bear events across the country have become some of the biggest in the world, and unite thousands in the bear community for a period of time to dance, drink, frolic and enjoy each other's company.
We have found a list of the five best bear events to attend during the calendar year.  Get your tiki shirts on (or off), lather on the sunscreen, pack your lube and get ready for some fun in and out of the sun.
Bear Week (Provincetown, Massachusetts).   Bear Week is easily one of the biggest (if not biggest) bear event around the world, and has drawn a massive following since it started in the early millennium.  Provincetown (off the coast of Cape Cod) is one big furry island for a week in July, as thousands of men descend onto its island for a week of dancing and debauchery.  Guys can be seen out at different events including Singlet Tea, drinking some delicious Planter's Punch at the Boatslip on a nightly basis, cruising the PTown Inn Pool (which becomes Bear Soup for 7-8 days), and so much more.  Keep the month of July open, as this is an event you don't want to miss.
Furball (multiple cities throughout the year).  If there is one event that isn't city specific that encompasses what we love about the bear community, it's Furball.  The legendary event is run by New York City nightlife king Joe Fiore, and takes place not only in The Big Apple but also in Washington D.C. and New Orleans, to name a few.  The concept is simple.  Big dance floor, smoking hot beats from internationally known DJ's, some of the sexiest gogo bears and cubs you have ever seen, culminating in a super awesome night.  What could be better?
Urban Bear (New York City, New York).  Urban Bear takes place when the weather gets hot in late May, and is sort of the "unofficial" kickoff to the summer for the bear community.  Over the course of three days, organizer Robert Valin puts his best foot forward to create a vast number of events for the bear community to attend.  This past year's event was quite successful, with events ranging from Bears on Bikes (taking a ride along the West Side Highway), to the Bear Invasion at The Whitney & Highline all the way to the Urban Bear Street Festival, where several "bear" related vendors showcase their offerings in fashion and so much more.  If you happen to be in NYC in late May, check this event out.
Lazy Bear Weekend (Guerneville, California.) If you are looking for a bear type event in a cooler and more of a nature type setting, then Lazy Bear Weekend is your thing.  Located in the heart of Sonoma County's Russian River Valley, Lazy Bear Weekend provides an excellent outdoor experience with endless pool parties, bonfires, live entertainment and more.  Even better, it happens right after Bear Week in Provincetown, so if you happen to be a bi-coastal bear and want to experience Lazy Bear as well, you can!  Lazy Bear Weekend takes place the first weekend of August in 2018. 
International Bear Convergence (Palm Springs, California).  Can't wait til summer to experience an amazing bear event in all its glory?  Try the International Bear Convergence in Palm Springs, California, which is taking place this coming February from the 8th to the 12th.  Billed as the premier winter event for bears and admirers, the four day event will be filled some of the hottest men from across the world at some amazing pool parties, rocking out to some fantastic DJ's, getting a tan during the "meat and greets" and so much more.